2017 Awards Banquet
Our 11th Annual Big Game Awards Banquet took place on September 23, 2017 at Alparon Park/Troy Fairgrounds in Troy, PA. Bradford County's biggest and most recently harvested whitetail deer and black bears, plus shed antlers were accepted into our Big Game Records.
Big Game Awards were presented to 31 individuals in 7 categories, with archery hunters entering 22 of those trophy class animals.
The top whitetail awards were presented to: Braden Felter of Wyalusing for Youth Typical at 129-4 taken in Tuscarora Township; Bill Hannan of Franklin, NJ for Typical Deer Gun at 147-2 taken in Wells Township; Jordan Newton of Wyalusing for Typical Deer Archery at 140-4 taken in Asylum Township; Timothy Bull of Monroeton for Typical Deer Muzzleloader at 140-0 taken in Franklin Township; and Kyle Jackson of Columbia Cross Roads for Non-Typical Deer Archery at 173-0 taken in Springfield Township. The Jackson buck surpasses the previous record by 17-6 to become the new No. 1 for that category. With nearly 22 inches of abnormal points, the Jackson buck now ranks 29 in the PA State Record Book for that category.
The top black bear award was presented to Roger Strobridge of Troy, PA for a Troy Township bruin taken on November 21, 2016. The bear scored 21-2/16, weighed 523 pounds, and was aged at 6 years 10 months.
Also, the top entries in the shed antler categories added to our records were a matching set found by Kelly Devine of Rome at 117-6, and a massive single beam found by Charles Watkins of Towanda at 80-6, which takes over as a new No.1 for that category.
Congratulations to all those hunters who were part of our 2017 Big Game Awards Program, and a big thank you to our Sponsors and all those who attended this celebration of Bradford County's big game hunting heritage.
Check out the
2018 "LUCKY 7" RAFFLE!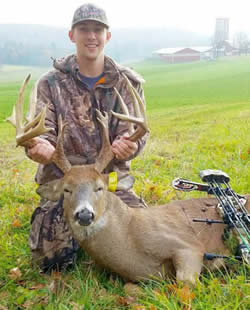 Kyle Jackson's Springfield Twp.
buck scoring 173-0 is a new No. 1
for the Non-Typical Archery category.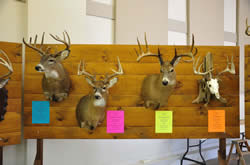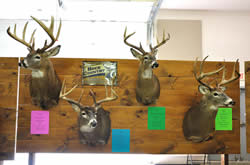 ---
Thank you to our newest Sponsors:
FURMAN and HARKNESS CONSTRUCTION / Gillet, PA
ARMENIA MTN. SPURS CHAPTER NWTF / Troy, PA
LAUREL HILL FORESTRY / Milan, PA
TOWANDA GUN CLUB / Towanda, PA
JOHNSON QUARRIES, INC. / LeRaysville, PA
SHERWOOD GROVES AUTO GROUP / Towanda, PA


* A special thank you to the Leroy Sportsman's Association
for donating the ladder stand at our 2017 Banquet.
---