2019 Awards Banquet
Our 13th Annual Big Game Awards Banquet took place on September 28, 2019 at Alparon Park/Troy Fairgrounds in Troy, PA. Bradford County's biggest and most recently harvested whitetail deer and black bears, plus shed antlers were accepted into our Big Game Records.
Thirty-one entries were added to our hunter-taken categories with archery hunters entering 21 of those trophy-class animals.
The top whitetail category entries were Jaydon Gardner of Sayre for a Youth Non-Typical at 162-6 taken in Columbia Township; Eugene Smiley of Powder Springs, GA for a Typical Deer Gun at 142-1 taken in Asylum Township; Kenneth Durning of Pipersville, PA for a Non-Typical Deer Gun at 168-4 taken in Wilmot Township; Chase Higginbottom of Pelham, NH for a Typical Deer Archery at 138-1 taken in Monroe Township; Lyle Rovenolt of Wyalusing for a Non-Typical Deer Archery at 135-5 taken in Wyalusing Township; and David Aumick of Troy for a Non-Typical Muzzleloader at 155-2 taken in Troy Township.
The top black bear entries were John Fedorchak of Ulster for a Franklin Township bruin weighing 491 pounds with a 20-2 skull; Shawn Newton of Wyalusing for a 481 pounder in the Black Bear Archery category that scored 20-2; and Charles Kellogg of Towanda tagged a Female Black Bear in Terry Township that weighed 282 pounds.
A very interesting entry that deserves mention was added to the Shed Antler Single Beam category. On March 16, 2019, Larry Matthews of Ulster found a 7-pt. left beam in Burlington Township that measured 87-4. That antler unseats the previous record by over 4" to take over the No. 1 rank. The buck that grew the antler left another No. 1 ranked entry on the ground the previous year. Gaige Williams of Granville Summit found the matching set on March 31, 2018. Even without an inside spread measurement, those matching antlers had a 163-1 NT gross, with a 156-4 NT net.
Congratulations to all those hunters who were part of our 2019 Big Game Awards program, and a big thank you to our Sponsors and all those who attended this celebration of Bradford County's big game hunting heritage.
---
* A special thank you to Laurel Hill Forestry for donating the 22 rifle for the Youth drawing.
---
On November 30, 2019 Scott Norton of Troy shot this Burlington Twp. 17 pt. buck, scoring 174-4. It will become a New Bradford County No. 3 in the TYPICAL GUN category, and rank No. 15 in the PA Record Book amongst 1730 entries. This incredible whitetail also produced the current No. 1 entries in both the Shed Antler Single Beam and Shed Antlers Matching categories. Forensic aging confirmed the buck was 8-1/2 years old.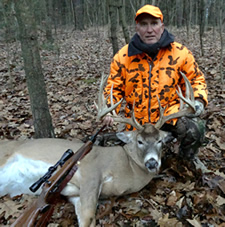 ---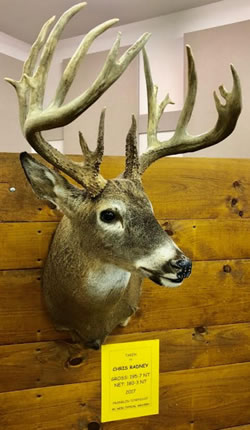 The Chris Radney, Franklin Township
buck taken in 2017, is the largest
archery non-typical in the county.
At 180-3, it ranks No. 27 in the
PA State Record Book
for that category.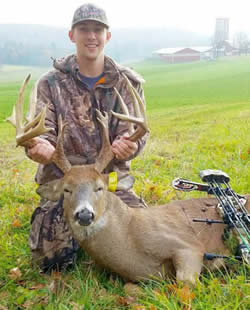 Kyle Jackson's Springfield Twp.
buck scoring 173-0 is a new No. 2
for the Non-Typical Archery category
and ranks No 38
in the state Record Book.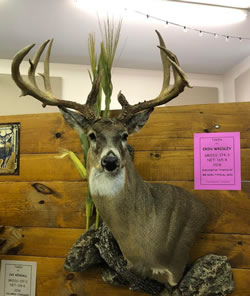 Erin Wrisley of Ulster shot this 17 point
non-typical with a 7mm-08. At 165-4,
it ranks No.8 in the NT category, and
holds a state Record Book rank of 142.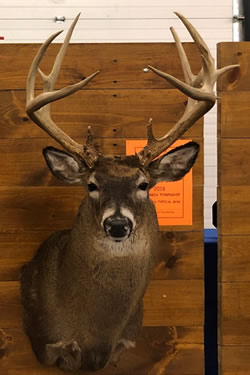 This Columbia Township buck
scoring 162-6 NT was taken by Jaydon Gardner
of Sayre. It ranks No. 2 in the Youth category,
and No. 162 in the state Record Book in
the Non-typical Firearms category.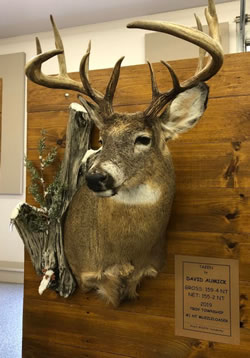 This Troy Township Non-typical was taken
by David Aumick of Troy with a flintlock.
With 12 scoreable points, and an inside
spread of 20", it ranks No. 1 in the
Muzzleloader category at 155-2.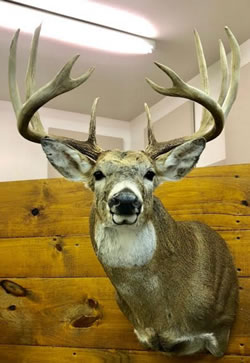 This impressive Windham Township buck
was taken by Jeff Wiseman in 2017.
It scores 164-2 and ranks No. 7 in the
Non-Typical Deer Gun category.